Colors of Math
June 24th, 2013 | 07:00 pm | Tulla-Hörsaal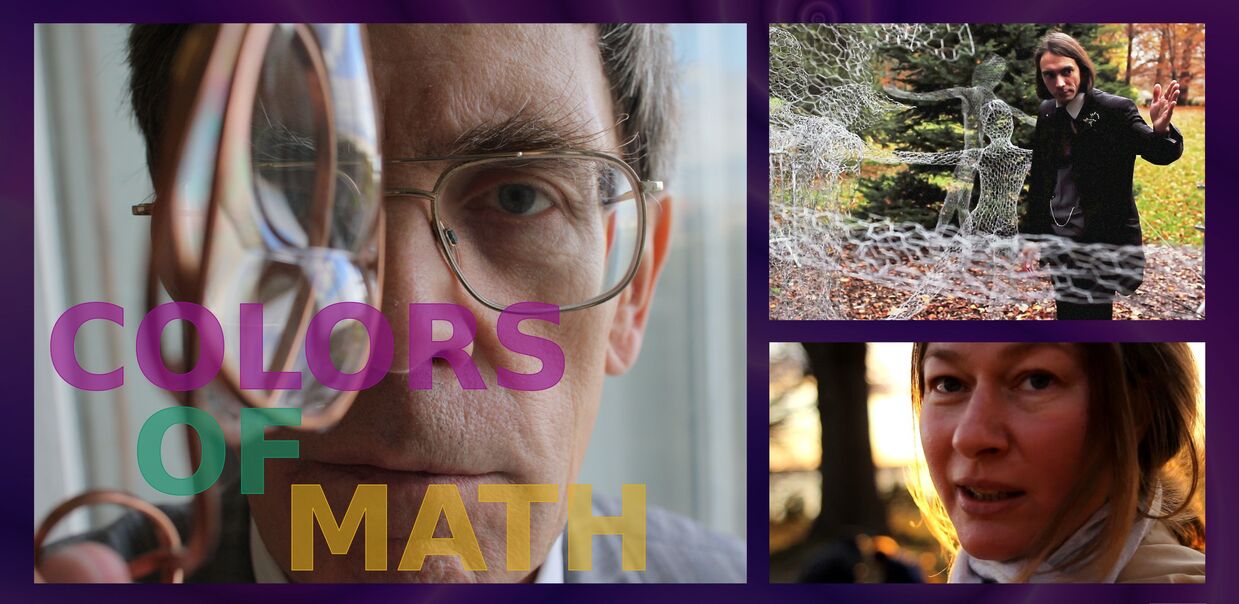 Film Screening with the director Ekaterina Eremenko (see picture on the bottom right) during "Effekte" - the science festival of Karlsruhe. Film discussion afterwards. Film languages: English and Russian with German subtitles. Free entrance.
About the movie
To most people math appears abstract, mysterious, complicated, inaccessible. But math is nothing but a different language to express the world. Math can be sensual... Math can be tasted, it smells, it creates sound and color. One can touch it- and be touched by it...
About the director
Ekaterina Eremenko works as a producer, director and screen-writer. She has graduated at the faculty of mechanics and mathematics of the MSU, the department of film directing of the Gerasimov Institute of Cinematography (the Marlen Khutsiev's art school) and the school of documentary-making Discovery Campus Masterschool of Munich. She is the founder of «EEFilms» company («Ekaterina Eremenko Films»), the director of such documentaries as "Russian canary", "Hunting the mammoth", "My class", "Colors of Math", nominee and prize-winner at a number of international film festivals.
Review
"Possibly the Best Math Movie you haven't seen." Science Friday, USA
"'Colors of Math' builds a bridge from the shore of everyday life to the shore of a phantasmic harmony of divine spheres, sometimes unreachable and thus more attractive." Drugoe Kino
"This film generated enournous interest even before it was shown. The topic is difficult, the approach highly unusual. Mathematics is a science that is very hard to visualize. But the work of director Ekaterina Eremenko and the cameraman Pavel Kostomarov consists primarily of striking metaphors and associations. This is not a popularizing film, but rather a philosophical one." Vesti, Russia
"In this film, outstanding, brilliant mathematicians are shown first of all as exceptional, extraordinary people. This is why this film will be more and more appreciated, as time passes. Most importantly, very few have ever succeeded in PAINTING mathematics." Victor Kossakovsky, Filmmaker
The documentary competition showed three times an incredibly fascinating and dizzying, like a hurricane, film by Ekaterina Eremenko and cameraman Pavel Kostomarov "Colors of Math". In a rapid progression, in intimate space it showed monologues of leading mathematicians about the essence of this highest science and about their personal, emotional evolvement in the process of discovery and creative thinking. One gets immersed into the stream of thoughts of geniuses, and stands with them, with naked feet, in this river and feels their feelings. This is so powerful! Even if you don't understand, but afterwards you feel disturbed and you see the world with different eyes. For the director, it was important to lead the viewer to a new level of thinking, to view the world with the eyes of mathematicians, be with the geniuses, but also to stay within art, to speak the language of emotions. MK, Russia
"The film has proven an unlikely hit, packing cinemas all over the country on a limited release." the moscow news
Contact Information
For more information, please contact Prof. Dr. Roman Sauer.